Dead Trigger 2 Tournament Update Goes Live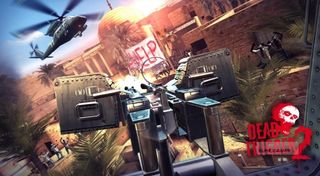 The popular first-person shooter on mobile devices has recently been updated to feature tournament play. Madfinger Games sent out word that Dead Trigger 2 will now sport weekly tournaments that take place over the weekend. The update has gone live for the game right now, enabling users to compete for high scores and tons of glory.
The update enables players to partake in tournament-set rules on two maps, Purgatory Arena and the Arena of Death. Both maps have been designed for competitive arena play, as they are lined with all sorts of tricks and traps that will impose deadly consequences on players who don't pay close attention to their position or fail to adjust to the ever-changing dangers present in competitive, point-oriented play.
According to Pavel ?ížek, vice president of Madfinger Games, he stated in the press release that...
But what good is a brand new competitive arena mode without some sexy new weapons? Madfinger announced that there are two brand new guns available for players to use, including the Metal Storm projectile gun that "silences" zombies with multiple-firing projectiles, and the Area-51 Gun that works as a disintegration ray against foes.
You can see how the new update plays out for Dead Trigger 2 with the promotional trailer below.
Madfinger Games has garnered quite a reputation in the gaming circles, as they're one of the few developers dedicated to mobile gaming that actually produces high-quality titles that you would likely see on home consoles or PC.
The studio even offered up some optimization tips for up-and-coming Unity developers, enabling them to find quick ways to cut down on processor usage.
They also managed to port over Dead Trigger 2 for higher-end Tegra 4 devices. Even more recent than that, the company celebrated their fourth anniversary by discounting many of their games and offering up goodies to the gaming community.
As for Dead Trigger 2, the game is a fast-paced zombie shooter, very similar to Killing Floor and the upcoming Killing Floor 2. Gamers looking to get in some play-time with the title can do so right now by picking up a digital copy for Android devices via the Google Play store.
Maybe one day Madfinger Games will port over Dead Trigger or Shadowgun to some of the bigger home consoles or PC? With a few mods and some total conversions offered by the gaming community, it could end up as big as games like Unreal Tournament or Quake.
You can learn more about the new Tournament update and other upgrades for Dead Trigger 2 by paying a visit to the official website.
Staff Writer at CinemaBlend.
Your Daily Blend of Entertainment News
Thank you for signing up to CinemaBlend. You will receive a verification email shortly.
There was a problem. Please refresh the page and try again.