Deathtrap, Diablo-Style Tower Defense Game Lands On Steam Early Access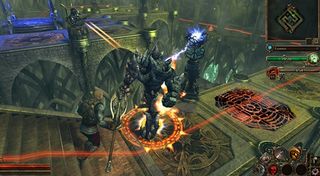 Tower defense games come a dime a dozen. We see them all the time, everywhere. They've mostly invaded the mobile and casual space, not much to the delight or chagrin of anyone who really cares. However, every once in a while we'll get a gem that sparkles like a diamond in the rough on a cloudless summer's day, and while I'm not saying that Deathtrap is that gem, I am saying that it looks like it could shine on a cloudless summer's day.
So I haven't had a whole lot of time to look this game over; and I'll be honest and say that I didn't even know that this game was in development before today (or if I did it was effectively buried in my memory under all the crappy DLC news, pre-order bonuses, fleecing season passes and bull-crap campaigns to get gamers to depart from their hard-earned money on less-than-savory marketing tactics).
Anyway, Neocore Games wanted gamers to know that Deathtrap is up and live on Steam's Early Access platform. I know everyone has their own reservations about putting money down on alpha builds of games, but the least you can do is check the game out in action below before making a final decision.
So yeah, as the headline states, you can see that it's kind of like a Diablo meets Dungeon Defenders kind of clone. Actually, the more I think of it... the game seems awfully similar to an isometric, battle-spam version of DotA 2 fused with Sacred.
Regardless of the games it may seem similar to, Deathtrap seems to be trying to carve out a niche as a Gothic, tower-defense action-RPG. No complaints from me about that.
Zoltán Pozsonyi, producer of Deathtrap, commented about the game's recent release into Early Access, stating...
The user-generated content could be the thing that makes or breaks the game. The title will have full Steam Workshop support, so gamers can create and build all sorts of things to keep the replay values intact and expansive.
Just because a game has Workshop support doesn't necessitate that it's going to be balls-to-the-walls awesome, but it definitely gives it an opportunity to grow its own community. As we all know, a game lives or dies based on whether or not it can establish and maintain that community... see Space Engineers, for example.
Anyway, you can learn more about Deathtrap by paying a visit to the official website. If you like what the game is promising, and you're curious about where it might end up, you can support the cause over on the Steam store page.
Your Daily Blend of Entertainment News
Staff Writer at CinemaBlend.