Dedicated Servers Make Shattered Horizon A More Frag-Friendly Game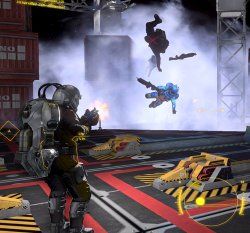 Futuremark Studios wanted gamers to know that they have partnered with Steam to provide dedicated servers for their zero-gravity, first-person shooter, Shattered Horizon. In addition to having dedicated servers there is also new updates available with the new servers.
According to Jaakko Haapasalo, producer of the game...
In addition to all this a new bundle offer has been introduced, including Shattered Horizon and 3DMark Vantage Advanced Edition (Futuremark's DirectX 10 gaming benchmark) for only $29.99.
This news doesn't come without a few extra details regarding the dedicated server launched for the game. You can check out the full fact sheet of the new server and updates for the game below. For more information on Shattered Horizon be sure to visit the Official Website.
Dedicated server features
- GUI for creating custom level rotations, game settings and player limits.
- Custom server name, graphic and information URL.
- Optional password protection for private matches.
- Remote admin console accessible within Shattered Horizon game client.
- Configurable auto-team balancing.
- Configurable auto-kick / ban for team-killers and high-ping connections.
- Built-in anti-cheat detection with configurable auto-kick / ban.
- Admin manual kick / ban.
- Support for VAC.
- Registered servers can submit player stats and achievements to the official leaderboards (registration is optional and free).
- LAN game support.
- Supported operating systems: Windows XP, Windows Server 2003, Windows Vista, Windows 7 and Windows Server 2008. (Note: DirectX 10 is not required for running a Shattered Horizon server.)
Your Daily Blend of Entertainment News
Staff Writer at CinemaBlend.