Def Jam Rapstar Website Updated And New Screenshots Released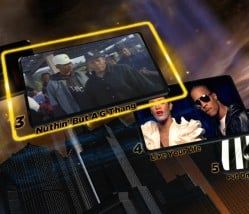 A lot of fighting fans were probably hoping the next Def Jam game would be a follow-up to the fighting franchise started long ago by THQ, and later picked up by EA. Unfortunately the game is a music production title that's all about flow, "crews" and swagger. Regardless of the lingo, 4mm released a few new screenshots of their hip-hop title, Def Jam Rapstar.
According to the press release…
DJ: Rapstar is a music game much in the same vein as Guitar Hero or Rock Band. Maybe this is just a hold-me-off game until a real Def Jam comes along that isn't just a cash-in on the music-game genre.
Anyway, you can check out the new screenshots below or visit the Official Website for new updated content. Def Jam: Rapstar is scheduled for release in 2010.
Image 1 of 6
Your Daily Blend of Entertainment News
Staff Writer at CinemaBlend.