Dev Says Blacklight: Retribution Looks As Good As $60 Retail Games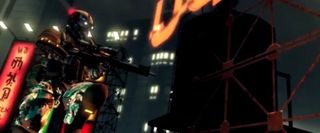 Zombie Studios released a new developer diary for their upcoming free-to-play shooter, Blacklight: Retribution. They make the bold postulation that Blacklight is a game not to be ignored and that the experience and visuals are about on par with what you would get from a $60 retail game.
Some of you might be wondering why Blacklight: Retribution isn't on consoles even though the first game was. Well, Perfect World wasn't keen on playing Microsoft's three-game publishing requirement, so for now Blacklight: Retribution is only going to be available on PC. You can check out some of the new features that will be in the free-to-play PC exclusive in the dev diary below.
So, being the objective gamers that you are…does Blacklight: Retribution look like a game worth playing and more importantly, does it look like it offers everything you might find in a $60 retail game? Personally, it looks more like a $39.95 multiplayer-only title. But that's just my humble opinion. I don't think tossing a lot of tessellation at a game instantly makes it $60 worthy.
Blacklight: Retribution features fully customizable weapons, character leveling, a diverse selection of maps and competitive and cooperative multiplayer modes. You can learn more about the game or sign-up to participate in the closed beta, which is scheduled to go live two days after Call of Duty: Modern Warfare 3 launches, November 10th. For more info feel free to visit the Official Website.
Staff Writer at CinemaBlend.
Your Daily Blend of Entertainment News
Thank you for signing up to CinemaBlend. You will receive a verification email shortly.
There was a problem. Please refresh the page and try again.