Devil May Cry Overcomes Life Of Violence, Murder, Death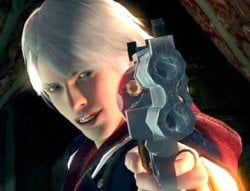 It's rare that you read from among gaming news sites an article that's as personal and real as some faceless survey coercing people into opinions about video game violence, escapism and death. Heck, just recently Blend Games' own Rich Knight covered news [via TheGameReviews] about a UK based company, Change4Life, blaming video games for everything that's jacked up with the world (another interesting read).
Loot Ninja's Yaris Gutierrez, however, tackles violence, murder, death and criminal behavior in a fascinating and deep rooted piece of journalistic novelty that's rarely found in the world of video game journalism. What's more is that all of the above has nothing to do with playing video games; it was part of the troubled writer's real life. (You can take that as a royal screw-you Change4Life. Should people stop living because their life is more hazardous than a video game in the same way that they should stop playing games because it's hazardous to their health?)
Unlike the multitude of other journalists who try to tackle the issue of positivism in video games by illustrating examples of surveys and statistics – tactics for which we here at Blend Games have even been known for using – Yaris cuts straight to the chase with an in-depth piece that points out how gaming saved him from the bottomless pit that was the real world. Even more-so, he points out how a certain Devil May Cry was especially influential in helping win this prolific writer over from the dark side.
It's easy to argue that his venture into the escapism of virtual reality was a whole new problem of avoidance and…well, escapism, but it obviously helped him mature. There's no arguing that point. Nevertheless, this hard-edged tail takes some fascinating twists and turns and eventually gives everyone something to root for before you get to the comments section.
For anyone who argued for or against the relevancy of playing video games, feel free to check out Loot Ninja's mature and realistic take on a world many people just don't understand. For more insight, news, media and updates regarding all things gaming, be sure to stay tuned in with Blend Games.
Staff Writer at CinemaBlend.
Your Daily Blend of Entertainment News
Thank you for signing up to CinemaBlend. You will receive a verification email shortly.
There was a problem. Please refresh the page and try again.