Diablo 3 Open Beta Weekend Starts Today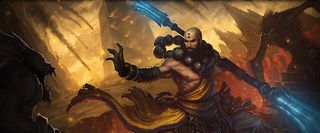 Blizzard has decided to open up the Diablo 3 beta to all interested players this weekend in order to stress test the servers. Anyone with a Battle.net account can download the client and try out a portion of the action RPG.
The beta features a portion of the game's first Act. Players will travel to New Tristram and meet some of the principle characters, including Deckard Cain's niece Leah Cain. They'll also journey into the monster-filled countryside to find Deckard. The beta, which takes about an hour or so to complete, ends with a fight against the Skeleton King.
"Stress test participants will only be able to access the beta between Friday, April 20 at 12:01 p.m. PDT (noon), and Monday, April 23 at 10:00 a.m. PDT," explains Blizzard. "In addition, stress test participants will not have access to post in the beta forums and will not be provided Beta Bucks for use in testing the currency-based auction house."
The open beta will be available everywhere except Korea "due regional differences and features." A separate test will be held specifically for Korea, Taiwan, Hong Kong and Macau next week. Furthermore, only the English, French, and German versions of the game will be playable during this weekend.
If you're in the closed beta already, you'll still have access during and after this weekend. You might experience more lag or disconnects than usual, though, due to the sudden influx of new testers. The closed beta, as previously announced, will conclude on May 1st.
Gaming Blend had the opportunity to try out the beta earlier this year. You can read our thoughts on it here.
Staff Writer at CinemaBlend.
Your Daily Blend of Entertainment News
Thank you for signing up to CinemaBlend. You will receive a verification email shortly.
There was a problem. Please refresh the page and try again.