Diablo 3 Players Have Designed A Legendary Sword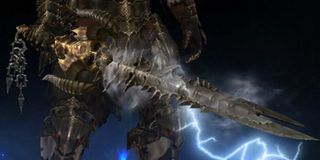 Diablo 3: Reaper of Souls will feature a new Legendary Sword created by its players. They designed the Shard of Hate through a series of community votes hosted by Blizzard.
Players were able to choose the weapon type, theme, power and name of the item. The Shard of Hate is a one-handed sword styled after Mephisto, the Lord of Hatred who players fought in Diablo 2.
"Over 20,000 players participated in last week's Choose Your Name vote. And although there were many who championed 'Spine of the Father', 'Rancor,' 'Malevolence,' and 'Sankekur's Sorrow' admirably as the rightful moniker for our Mephisto-themed sword, their rallies were not enough to sway the majority and unseat the early frontrunner of this particular poll," Blizzard said this weekend.
The Shard of Hate can enhance your elemental damage in one of three ways. Lightning damage can cause the sword to cast a Charged Bolt at enemies. Poison and cold damage have a chance to trigger Poison Nova and Freezing Skull, respectively.
D3 designers Travis Day and John Yang are now working on Shard of Hate's stats. They may make some adjustments to the power's mechanics as well. The updated tooltip for the weapon will be released soon along with a Q&A with the two designers. Expect additional behind-the-scenes shots of the weapon in coming days as well. The weapon will eventually be released through the game's test server.
Blizzard said in the past that they may hold additional "Design a Legendary" events in the future, depending on how this one went. It seems like a lot of players participated in the Shard of Hate votes so I wouldn't be surprised if players got another chance to craft another unique item. I hope they do; it's great to see players get a chance to participate in the game's development, even in a very narrow way.
Reaper of Souls, the first expansion pack for the action RPG, will be released in March on PC and Mac. It will also debut on the PS4 along with the base game. Reaper adds a Crusader class to the game along with a new chapter in the campaign. Players can pursue a new level cap of 70 and visit a Mystic to transform their weapons.
Image 1 of 2
Your Daily Blend of Entertainment News
Staff Writer at CinemaBlend.