Diablo III Rumor May Be True According To Blizzard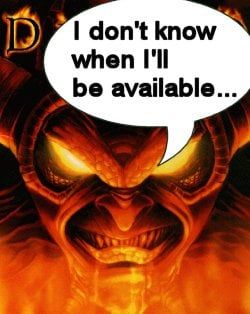 Everyone wants to play some Diablo III. A new sequel has been long overdue since the previous iteration (much like Starcraft 2) and now news has surfaced on just how soon gamers might be getting their hands on Blizzard's prime-rib RPG sequel.
Rumors went flying every-which-way the internet would let them go when a release date for Diablo III was supposedly let loose [via Kaputik.com]. Presumably, a multiplayer beta is due out on September 11th of this year (strange date to launch a beta, no?) with the final game hitting retail shelves on December 24th.
Anyway, according to the Rumor Killers article on TheGameReviews.com, Blizzard contacted them about the free-flying rumors regarding the release of Diablo III, and they neither confirmed nor shot-down the possibility of the game launching within the rumored window. So what was Blizzard's response?
"As for Diablo III: Blizzard has not announced a release date for Diablo III at this time." Says Ryan Arbogast, Associate PR Manager at Blizzard to TGR.
Wow, nice. Great way to kill a rumor, or confirm its authenticity, Ryan. Regardless, gamers are no better off knowing anything about the release date with a response like that. So what does this mean? It means you'll just have to stay tuned in with Blend Games for more news and updates regarding all things gaming, especially release dates for Diablo III.
Staff Writer at CinemaBlend.
Your Daily Blend of Entertainment News
Thank you for signing up to CinemaBlend. You will receive a verification email shortly.
There was a problem. Please refresh the page and try again.