Dieselstormers Launches For Steam's Early Access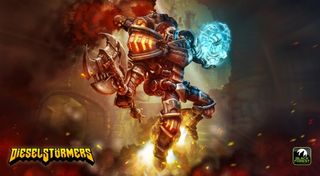 Black Forest Games has managed to churn out yet another Kickstarter success. The developers have announced that Dieselstormers, the disel-punk side-scrolling action game, has managed to finish its Kickstarter run with a launch on Steam's Early Access platform.
With various studies showing that there's a pretty big delay between a game finishing its Kickstarter campaign and the game actually appearing in some playable form on a distribution platform, Black Forest Games decided to do things slightly different from the rest of the herd by focusing on getting an up-and-running version of Dieselstormers ready for launch on Steam's Early Access once the Kickstarter completed itself.
The company had previously moved the game through the sometimes treacherous territory of Steam's Greenlight phase, where some games will make it through easily and other games will get stuck in vote-purgatory, jammed up on one thing or another. But in the case of Dieselstormers, the studio didn't have to worry too much since they had previously moved Giana Sisters: Twisted Dreams through the process with startling success.
That's right, Black Forest Games is no stranger to the workings of the indie scene. The company had previously made waves with Giana Sisters, a remake of the classic copy-cat Mario-clone. Only this time, the game was its own thing and the team managed to separate themselves quite a bit from Nintendo's side-scroller.
As for Dieselstormers.... originally the game wasn't called what it is today. At first it started as Ravensdale. The concept was the same but the name was tweaked after it didn't fare so well in the crowd-sourced community. After a name change and a slightly more aggressive marketing push with a lower crowd-funding goal, Dieselstormers managed to barrel through the funding process and come out on the other side a real winner.
Managing Director and Co-Founder of Black Forest Games, Adrian Goersch, stated in the press release that...
So what is Dieselstormers? The game is another side-scroller, just like Giana Sisters, but it's a completely different experience. The game is not a happy-go-lucky platformer, but is actually a procedural action-shooter for up to four-players. That's right, it's a progressive, four-player cooperative shooting experience with customizable weapons, role-playing elements and tons of orc-blasting gameplay for you and your friends.
The first version of the game will be completed on PC and after things get ironed out, releases on the Xbox One, PS4 and Wii U are in the pipeline. What's more is that the game sports single and multiplayer co-op for local offline and worldwide online gameplay. So your friends near and far will be able to get in on the action.
You can grab Dieselstormers on Steam's Early Access platform right now for only $18.99. The game's full release will be in April of next year (that's 2015) for $24.99. So if you really want to get in on the deal you might want to grab it while it's cheap.
You can learn more by paying a visit to the game's Early Access page.
Staff Writer at CinemaBlend.
Your Daily Blend of Entertainment News
Thank you for signing up to CinemaBlend. You will receive a verification email shortly.
There was a problem. Please refresh the page and try again.