Divinity: Original Sin 2 Is Our Baldur's Gate 2, Developer Says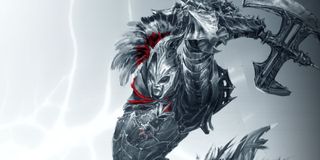 Larian Studios announced that they're developing Divinity: Original Sin 2, a sequel to last year's turn-based RPG. They plan to launch a Kickstarter campaign for the game on August 26th.
Swen Vincke, founder of Larian Studios, says that they're using Kickstarter for Divinity: Original Sin 2 because they felt crowd-funding dramatically improved the first game:
While Larian is waiting until the Kickstarter campaign launches to share more details, Vincke did drop a few hints. He said that Original Sin 2 will build on the foundation for the first game. He estimates that developing the elementary systems of a game take up about 60% of the time. However, with Original Sin 2 using the basic framework of the first game, the developers will be able to devote more time to an "start building the world immediately and try out all kinds of things."
The hope is that Original Sin 2 will end up being a huge step forward for the series. Vincke hopes it will be as big of an upgrade as Baldur's Gate's sequel was:
That kind of talk is bound to get the attention of a long-time PC RPG fan. Baldur's Gate 2 was one of the best sequels the genre has ever seen. It had a much grander scale than its sequel with loads of strategic depth as well as an amazing storyline. It made the first game look frankly crappy by comparison.
Larian Studios will bring a prototype of Original Sin 2 so RPG fans can get a glimpse at the project. It's unclear when the actual game will be released, though.
The developer is currently making Divinity: Original Sin – Enhanced Edition as well. D:OS - EE is an improved version of the original game for PS4 and Xbox One. Its features include new quests and fully voiced quests. Larian hopes to release it by the end of 2015.
Staff Writer at CinemaBlend.
Your Daily Blend of Entertainment News
Thank you for signing up to CinemaBlend. You will receive a verification email shortly.
There was a problem. Please refresh the page and try again.