Download Command And Conquer: Tiberian Sun And Firestorm For Free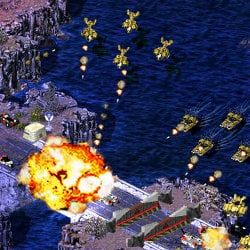 While you wait for Command and Conquer 4's release, why not play a previous game in the series for no charge? Today EA released Command and Conquer: Tiberian Sun and its expansion Firestorm as freeware.
Released in 2000, Tiberian Sun is the second game in the "Tiberium Wars" storyline which will end with C&C4. Tiberian takes place roughly 30 years after the original C&C. The Global Defense Initiative and Brotherhood of Nod are once again waging war over the mysterious substance known as Tiberium.
This is the third C&C game to be released as freeware. Command and Conquer: Tiberium Dawn and Command and Conquer: Red Alert are available for download through EA as well.
C&C4 is a little over a month away, arriving in North America on March 16th and in Europe on the 19th. There's plenty of time for you to catch up on the storyline with these older games.
Your Daily Blend of Entertainment News
Staff Writer at CinemaBlend.