Dragon Ball Z Tenkaichi Tag Team Demo Powers-Up On PSN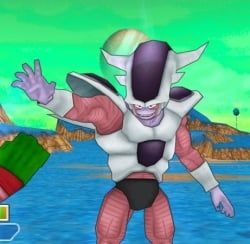 Namco Bandai has another DBZ game on the way (as if that's a surprise?) but before the game lands on retailer shelves there's a small demo that's currently available to play. Simply hop onto PSN to pick up the tag-team demo for Dragon Ball Z Tenkaichi Tag Team.
As stated in the press release…
In addition to this, the game sports a Battle 100 mode, the entire story arc from the Saiyan saga to the Majin Buu encounter, as well as plenty of other auxiliary modes and options to keep gamers busy just long enough for Namco to pop out another DBZ or Naruto game.
Dragon Ball Z Tenkaichi Tag Team is due out October 19th, exclusively for the PSP for only $39.99.
Staff Writer at CinemaBlend.
Your Daily Blend of Entertainment News
Thank you for signing up to CinemaBlend. You will receive a verification email shortly.
There was a problem. Please refresh the page and try again.