Dream Arcades Announces Dreamcade Kegerator With Over 145 Games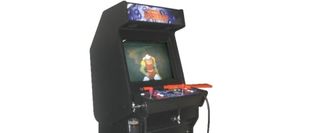 You know how oftentimes you'll think to yourself "Man, I wish I had a nice ice-cold beer to go along with this game of Buck Hunter" well instead of risking losing your score to go to the fridge and grab a beer, with Dream Arcades' Inebriation Station you can drink all you want while playing your favorite arcade games.
Dream Arcade recently announced that they have a brand new device available for enthusiast gamers and it's called the Dreamcade Kegerator, also nicknamed the "Inebriation Station". As mentioned in the opening paragraph the station enables gamers to have a nice cold brewskie while playing their favorite arcade titles using the side built-in beer taps. I mean, this device literally lives up to the whole games, beers and buddies routine.
I imagine gamers with a bit of cash to spend on this collectible device will definitely want it in their home or gaming den, but it's definitely not something the average core gamer will be able to afford because the Dreamcade Kegerator clocks in at a whopping $3,995 plus shipping and handling. If you have an extra $4k sitting around then I'm sure it's worth the plunge, alternatively you could always coerce your buddies into chipping in $1,000 each to make up the difference...I'm sure the wives won't mind.
A few of the games pre-built into the Kegerator includes Buck Hunter, House of the Dead 3, Ms Pac-Man, Centipede, Galaga and tons more. The new arcade cabinet from Dream Arcades will contain more than two dozen shooting games and a total of 145 arcade titles. You can learn more about Dream Arcades and their Dreamcade Kegerator by visiting the Official Dream Arcades Website.
Staff Writer at CinemaBlend.
Your Daily Blend of Entertainment News
Thank you for signing up to CinemaBlend. You will receive a verification email shortly.
There was a problem. Please refresh the page and try again.