A Druid's Duel Brings Strategic Battles To Kickstarter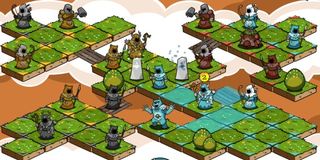 For strategic battle fans looking for some new twists on a favorite genre, A Druid's Duel might provide the spell-flinging fisticuffs you've been looking for. It's slated for a June release on everything from iPad and Mac to Windows and Linux and, with the help of a recently launched Kickstarter campaign, the development team at Thoughtshelter Games looks to offer up some solid competitive gameplay for 2-4 players.
Kickstarter evolved into a breeding ground for up and coming games over the past couple of years, allowing developers to pursue their individual visions without having to answer to a major publisher. Former member of software development shop, The Nerdery, developer Kris Szafranski aims to do exactly that with A Druid's Duel, the first project from Thoughtshelter Games featuring strategy "gameplay that's easy to learn yet difficult to master," according to the official press release.
Before we get too far into the nitty-gritties of the game, let's take a look at that Kickstarter campaign, which launched today. In short, Thoughtshelter is looking to raise $7,000 by April 9 to help finish up the game and make that June launch window. Already raking in $500 this morning, it looks like the team is off to a great start. As for where that $7,000 is going, the official Kickstarter page outlines the need for extra funds to finalize development and audio/visual tasks, as well as provide additional hardware for testing purposes.
Like most Kickstarter campaigns, there's a reward tier set up for those who want to throw a little money into the project, with a unique "backer booster" set up to unlock additional rewards for everyone as more and more participants come on board.
As mentioned above, A Druid's duel is planned for release on iPAD, Windows, Mac and Linux, and there's even a link to its Steam Greenlight page through the Kickstarter.
Fans of strategy combat games should feel right at home in A Druid's Duel. Maps are grid-based and asymmetrical, but what you see isn't always what you get. At your disposal are four types of druids to enlist in your army, each with their own abilities and a unique animal transformation. Many spells also transform the landscape, meaning that everything from the ground you're standing on to the druid's you're fighting will constantly be in flux.
A single player campaign set across 50 maps is included, as well as online and local multiplayer for 2-4 players. There's also support for league and tournament play, including ladders and progressions.
If you've always wanted to wage war as an all-powerful druid and demonstrate your strategic prowess, then A Druid's Duel might provide the battle you've been waiting for.
Staff Writer for CinemaBlend.
Your Daily Blend of Entertainment News
Thank you for signing up to CinemaBlend. You will receive a verification email shortly.
There was a problem. Please refresh the page and try again.