Dungeon Stalker 2 Stalks Onto Windows Phone 7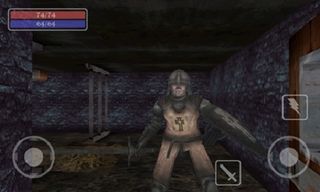 Webster's dictionary defines a "dungeon stalker" as one who stalks a dungeon. Rizing T.I.T.A.N and Star Zed define a "Dungeon Stalker 2" as the sequel to their epic first-person RPG title, now available for Windows Phone 7.
Quite the ambitious offering for a mobile platform, Dungeon Stalker 2 inhabits a full 3D world where players will utilize real-time combat, touch-based spell casting and a full leveling system as they stalk through massive dungeons (get it?!), hunting down monsters in an attempt to save the world from the dark and sinister Overlord.
Dungeon Stalker 2 looks to be the real deal for fans of fantasy RPG, complementing the dual-wielding, real time battle system with NPC characters to talk to, quests to pick up and boatloads of upgradeable weapons to loot. There are also 20 unique skills to master and magic spells to uncover, so the game won't be getting boring anytime soon after you boot it up, unlike some titles out there (there's no reason to name names).
A free ad-infused version of the game is currently available for download in the Windows Marketplace. A paid edition will be available shortly, allowing players to quest up to level two before making a purchasing decision. Neither a date for the paid version of the game, nor a price have been announced. To see Dungeon Stalker 2 in action, check out the video below.
Staff Writer for CinemaBlend.
Your Daily Blend of Entertainment News
Thank you for signing up to CinemaBlend. You will receive a verification email shortly.
There was a problem. Please refresh the page and try again.