Dynasty Warriors: Gundam 2 Training Walkthrough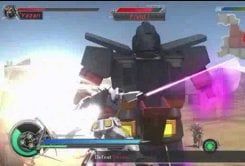 I was really ready to write an article that just ripped this game apart based on the trailer featured in this article. I was going to say that the AI was completely retarded, unintelligently stationary and very weak. However, those comments won't see the light of day considering that the trailer is for a training mission.
Believe it or not the fact that the latest trailer is a training mission changes the entire scope of this article, simply because if it were the real game, this would be an entirely different story. AI that stand around and do nothing while a large boss Gundam stands around and tries stepping on the player every once in a while would make for the most boring, un-fun gameplay you could possibly imagine.
Hopefully, what's on display in the training mission doesn't carry over into the real game. It would be a real shame if the AI just kind of stood around for the most part while players eviscerated them with laser swords and photon cannons.
You can check out the new trailer below and look for the game to ship on April 24th for the Xbox 360, PlayStation 3 and PlayStation 2. For more gaming news, info and updates, be sure to stay tuned in with Blend Games.
Your Daily Blend of Entertainment News
Staff Writer at CinemaBlend.