E.T.: The Green Planet For iOS Is Riiiiiight Heeeeere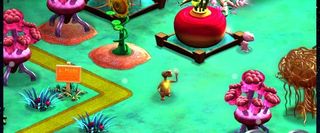 E.T. can finally phone home from your, well, phone. In celebration of the glowy-fingered alien's 30th anniversary, Chillingo has partnered with Universal to bring E.T.: The Green Planet to iOS devices including the iPhone, iPad and iPod Touch.
Available starting today, E.T.: The Green Planet finally sends the little guy homeward as players will get to explore The Green Planet, perhaps the least Sci-Fi sounding world to ever be created. What, was "The Round Planet" already taken?
According to a release from Chillingo, "the new game allows players to fly past the moon and soar across the stars together with our beloved extra-terrestrial. Once home, E.T. must save the dying planet by creating enchanted gardens full of intergalactic plant life."
That's right, boys and girls; you finally get to take control of E.T.'s patented healing touch in order to save an entire freaking planet.
According to Chillingo co-founder Joe Wee, his company is looking forward to rekindling some good old fashioned nostalgia for the 30-year-old film with this latest addition to the iTunes store.
"As fans ourselves, we are proud to work closely with Universal Partnerships and Licensint to introduce players to the fantastical and beautiful home planet of E.T.," said Wee.
E.T.: The Green Planet introduces E.T.'s teacher, Botanicus, and a group of Micro Tech workers who will help him rekindle the planet's ecosystem. Players will be able to grow a variety of plants, construct a communicator to contact Earth, create new plant hybrids and visit your friends' gardens as well.
You can grab E.T.: The Green Planet from iTunes starting today. (opens in new tab)
Staff Writer for CinemaBlend.
Your Daily Blend of Entertainment News
Thank you for signing up to CinemaBlend. You will receive a verification email shortly.
There was a problem. Please refresh the page and try again.