E3 2007: Jagged Alliance 3 Screenshots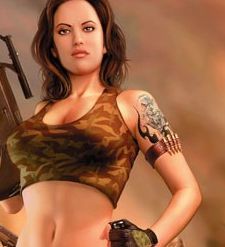 I know E3 is done and over with, but there was a game that was sorely overlooked: Jagged Alliance 3. This is one of the ultimate gamer games. You young newcomers to the age of video-gaming probably don't know how cool a franchise this is, but veteran hardcore gamers are probably already drooling over the thought of new screenshots.
The original Jagged Alliance was much like X-Com, but far superior. In fact, Jagged Alliance was Grand Theft Auto before Rockstar's Grand Theft Auto even existed. Crude sexual humor among candid profanity and adult themes were all too common in the Jagged Alliance series and it's one of the things that made the game fun, unique and edgy. Toss into this mix the violent turn-based shooting mechanics, stealth combat and real-time day/night encounters, and you have yourself one of the best gaming franchies in PC history.
Sadly, consumers were too wrapped up in BioWare's epic medieval fantasy adventure, Baldur's Gate, to pay any mind to Sci-Tech's owning sequel, Jagged Alliance 2. But now, the third game is on the way after begging, pleading and lots of letters from die-hard fans of the series. With Akella taking charge of the publishing rights, it'll be interesting to see how this third outing will be. In the mean time, you can check out new screenshots and character art that were present at this year's E3 summit.
Staff Writer at CinemaBlend.
Your Daily Blend of Entertainment News
Thank you for signing up to CinemaBlend. You will receive a verification email shortly.
There was a problem. Please refresh the page and try again.