EA Partners Up For Wheel Of Time Games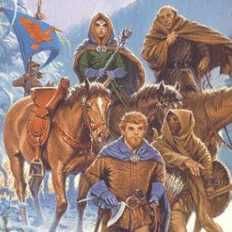 Red Eagle Games has a new partner in its efforts to create a video game series based off Robert Jordan's Wheel of Time fantasy novel series. Electronic Arts has agreed to handle the series' distribution.
The distribution deal, announced today in a press release, encompasses "a line of stand-alone games on all major videogame platforms, including consoles, personal computers, handheld systems and wireless devices" as well as a massive multiplayer online role-playing game. The games will be developed alongside film adaptations of the Wheel of Time books, which Red Eagle founders Rick Selvage and Larry Mondragon are producing in conjunction with Universal Pictures.
"The Wheel of Time is a blockbuster global brand and our relationship with EA Partners will ensure that Red Eagle Games' products are made available to consumers around the world through familiar retail channels," said Rick Selvage, Chairman and President of Red Eagle Games.
There's no mention of when we can expect the first of these WoT games.
Staff Writer at CinemaBlend.
Your Daily Blend of Entertainment News
Thank you for signing up to CinemaBlend. You will receive a verification email shortly.
There was a problem. Please refresh the page and try again.