EA Releasing Skate 2 Shoes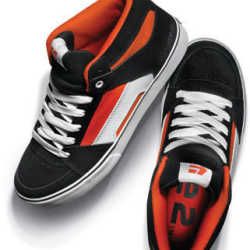 Ever play a game and think, "Man, they oughta make a shoe based on this!"? EA has answered your prayers. They're collaborating with Etnies to release a special skateboarding shoe in honor of the release of Skate 2.
According to Highsnobiety, the Skate 2 RVM shoe, "the RVM features the classic etnies Rap styling with a slimmed down mid-top silhouette on a vulcanized outsole and a tonal Skate 2 logo on the outer heel. The RVM also features STI System G2 gel in the heel of the outsole to absorb shock and prevent heel bruises."
In other words, it's a shoe and it's got the Skate 2 logo on it. It seems a lot less obnoxious than most tie-in apparel, at least. The inside flap of the Mirror's Edge messenger bag, for example, had Faith's giant face on it.
The shoe will be available at Zumiez stores in the United States later this month and at select international locations. The price hasn't been revealed yet. In case you're interested more in games than footwear, Skate 2 will be released on January 21st for Xbox 360 and PS3.
Staff Writer at CinemaBlend.
Your Daily Blend of Entertainment News
Thank you for signing up to CinemaBlend. You will receive a verification email shortly.
There was a problem. Please refresh the page and try again.