Earth Eternal: New Free-To-Play Web-Based MMO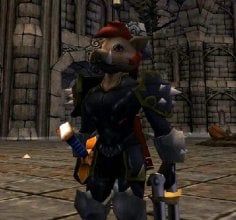 Perhaps Rune Scape has grown tiresome and boring? Maybe all those other web-based MMOs are satiating your free-to-play, browser-based RPG hunger? If you suffer from the fore-mentioned systems, maybe it's time you try something different, like Sparkplay Media's Earth Eternal.
"I'm really excited to have re-launched our site as we push towards the release of Earth Eternal. It's going to be one of the MMOs that redefines what people think of as a free-to-play experience." Said Matt Mihály, CEO, Sparkplay Media. "Our team rocks and they're turning the game into something well beyond what I thought we could accomplish when we started, three long years ago."
Vast environments to explore, lots of loot to gain and tons of quests await players in this free-to-play, browser-based MMORPG. Microtransactions are also present for gamers who really need to buy an advantage over foes. The relaunched website features new screenshots, an updated forum, plenty of support and some new media. Feel free to learn more about Earth Eternal by visiting the Official Website.
Interested in other projects by Sparkplay? Well, check out their Official Website for a full low-down. For more gaming news, info and updates on the latest titles, be sure to stay tuned in with Blend Games.
Staff Writer at CinemaBlend.
Your Daily Blend of Entertainment News
Thank you for signing up to CinemaBlend. You will receive a verification email shortly.
There was a problem. Please refresh the page and try again.