Earthrise Shutting Down Today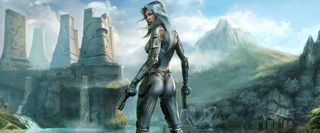 The post-apocalyptic MMORPG Earthrise is going offline. Developer Masthead Studios said that they're shutting down the game's servers today. The decision comes mere days after the MMO celebrated its one-year anniversary.
"Earthrise was released too early and did not meet the expectations of its fans," said Masthead director Atanas Atanasov. "We did our best to revive the game in 2011, but the time was not enough to keep up with the user requirements. There is a huge interest in high quality open world sandbox MMORPGs, unfortunately the big publishers do not show any interest in the genre. It is unfortunate that low budget companies like ours are trying to bring innovativeness in the already saturated MMO market. I hope that one day an independent studio will be able to release the long anticipated open world sandbox MMO, which everyone is talking about, but no one is making. We tried, but did not succeed. We would like to apologize to those who were disappointed from Earthrise and to thank everyone who supported us during the years."
Masthead planned to convert the game to a free-to-play model this year. However, getting ready for such a transition required time and money that they didn't have.
"We tried to make better game in terms of server and client performance. That means to us that we had to fix over 100 problems, reported by you or by our Q&A team, before we start the F2P model," reads a dev post on the game's forums. "However the latest internal test showed that we need at least 4 more months to complete this task. It is too long period, and we don't have the resources to do that. Atanas did his best to find investors, but it is a very hard task during the world economical crisis. "
"We don't abandon the Earthrise project completely. But it will be postponed for better times. We even thought to continue providing services for game for free, but it would still require investments. Instead of that we decided to focus on other projects, but it will be Ostiak, who can give additional information. Meanwhile we will keep the Earthrise forums and we will still use them. I hope one day I will put much better news there."
Masthead's only other announced game is "Project V13." This game, created in collaboration with Interplay, was intended to be a Fallout MMO. However, after a protracted legal battle, Interplay sold the Fallout MMO rights back to Bethesda. There's been no news about Project V13 since then, so it's not clear whether it's dead or if they plan to forge ahead without the Fallout license.
Your Daily Blend of Entertainment News
Staff Writer at CinemaBlend.
Your Daily Blend of Entertainment News
Thank you for signing up to CinemaBlend. You will receive a verification email shortly.
There was a problem. Please refresh the page and try again.