Eidos Launches Website For BattleStations: Pacific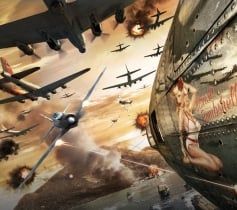 Gamers who are gearing up their thumbs for some hardcore, real-time strategy action, will be pleased to know that Eidos Game Studio's BattleStations: Pacific has taken one step closer to its release, with a brand spanking new website.
Featuring intense World War II action, BattleStations: Pacific is the sequel to the fan-favorite in-your-face RTS, BattleStations: Midway. "Battlestations offers a blend of action and strategy unlike any other videogame on the market and as such has a dedicated and committed community of fans," said Lee Singleton, General Manager of Eidos Game Studios. "The launch of Battlestations.net as a destination site for both information and discussion on the game comes as a direct result of listening and interacting with our communities."
The game features new online co-op and team-based multiplayer modes, two campaign modes, as well as the ability to play as the Japanese. The new website has full details on the new gameplay features, podcasts, developer blogs, screenshots, trailers and more. You can check it out at the Official BattleStations Website. BattleStations: Pacific is due out for the PC and Xbox 360 later this spring.
For further news and updates regarding your favorite games, be sure to stay tuned in with Blend Games.
Image 1 of 7