Electronic Gaming League's U.S. Tour Lands In Washington D.C.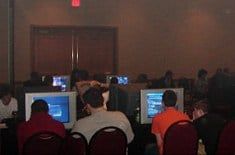 The fourth regional tournament of the Electronic Gaming League will kick off its inaugural tour through the interstates of the US this January between the 19th and 20th at the Sheraton Reston. With more than 250 individual gamers and 50 teams from around the country coming to compete within the competitive gaming atmospheres of Halo 2, DOA 4, and Super Smash Bros. Melee, it looks like the EGL is definitely heading in the right direction for its tour.
The Electronic Game League's D.C. tournament will have close to $5,000 in cash prizes, while the finals in Las Vegas boasts more than $15,000 in total prize earnings. EGL Tournament Director Ryan Baron commented that "The D.C. tournament is one of our most ambitious venues yet and promises to be a real battle of wits," He continued on to say, "We're expecting to see some of the most intense gaming of the season. We've got people coming from all over the east coast to either make a name for themselves or defend their reputations. The area is known for fostering some the world's elites and it's definitely going to be a shootout."
The 2k6 and 2k7 EGL pro tour season has ten regular-season regional tournaments in major metropolitan areas across the United States. Each team who competes in the league tournaments is eligible for winning up to $3,500 in cash prizes and singles competitors can win up to $750 in total earnings. There is an entry fee, however, where each team will have to wager $200 and singles competitors must put down a $20 competitors fee. For more information and details on the tour and registration, you can visit the Electronic Gaming League Main Website for all the official details.
Staff Writer at CinemaBlend.
Your Daily Blend of Entertainment News
Thank you for signing up to CinemaBlend. You will receive a verification email shortly.
There was a problem. Please refresh the page and try again.