Empire Earth III Is Not Dead...It's Actually Alive And Well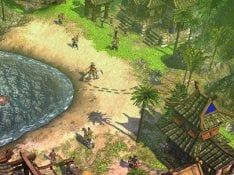 Vivendi has been nurturing plenty of games that range from all different kinds of genres. Up next for the publisher is the multi-million selling series that is bound to continue its reign of RTS popularity, Empire Earth III. Developed by Mad Doc Software, and featuring nearly endless hours of gameplay (literally), Vivendi just wanted to ensure us all that the series is not dead, and it is, in fact, being worked on at this very moment.
If Grand Theft Auto was simply an RTS game, it would not be Empire Earth. However, if Grand Theft Auto's open-ended gameplay, and continuous stream of free-roaming was an RTS game, it would be Empire Earth. As the only strategy game that has players battling across the face of time, with eons of battle scars molding the shape of your empire, EEIII will continue the trend that its predecessors started.
"The Empire Earth series has been the recipient of much deserved praise from the media and fans alike, making it a multi-million unit selling franchise for Sierra Entertainment," said Cindy Cook, chief strategy and marketing officer for Vivendi Games. "Empire Earth III will take the series to the next level with its ability to capture the entire scope of the globe and give it to the hands of the player."
With a single screenshot available for your viewing pleasure, you can visit the Official Empire Earth III Website for further details and information regarding the game.
Staff Writer at CinemaBlend.
Your Daily Blend of Entertainment News
Thank you for signing up to CinemaBlend. You will receive a verification email shortly.
There was a problem. Please refresh the page and try again.