Epic Games Gives Away Unreal Engine 4 Free For Schools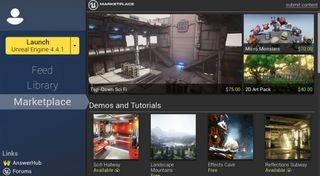 Epic Games and Unity Technologies have been trading one-ups with each other, constantly seeing which company can do more for the gaming community with their game engines than the other. Today, Epic Games announced that they have volleyed the ball back into the court of Unity after announcing that they will be giving away Unreal Engine 4 licenses for free to schools and students under the new education program.
Epic Announced the news over on their official website where they cleanly and clearly stated that...
What's more is that they mention that schools nor students will have to worry about ponying up $19 a month for the monthly fee in order to use Unreal Engine 4. That's a real good guy move there, Epic.
In addition to this, it further works against a narrative set forth by some groups who continually demonize gamers and the industry at large for not being inclusive. However, programs like this – making affordable and convenient the means in which creative media design and game creation can be pursued – is the perfect way to spread a positive message of inclusiveness for anyone trying to catch a break in the industry. So long as you have an interest, there will be a way to pursue it.
Ray Davis, general manager for the Unreal Engine, commented about the new initiative from Epic Games, saying...
There really is no better time than now to get involved with games design, if that's been your passion. The tools are cheaper than ever and the opportunities to make a wide variety of games are completely and entirely limited only by the creativity of the individual attempting to make the game.
In addition to supporting classroom education utilizing Unreal Engine technology, Epic also sent out word that they have a brand new marketplace initiative where users can purchase or sell props, backdrops, characters, effects and objects from the marketplace.
This means that Epic has finally come up to par with offering an asset store just like Unity with their asset store.
It was also mentioned that a major update was made for Microsoft's Visual Studio, with the press release stating...
You can learn more about the education initiative as well as the new marketplace by paying a visit to the official Unreal Engine website.
Your Daily Blend of Entertainment News
Staff Writer at CinemaBlend.