Epic Mickey: Warren Spector Talks Storytelling In Dev Doc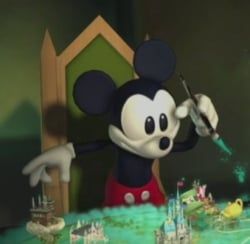 A very fascinating new developer diary was released from Junction Point and Disney Interactive for the upcoming Wii exclusive, Epic Mickey, and it's an interesting look at the story behind the game. What's more is that it's not just about the story that fuels the premise for the gameplay, but a lot of the story that revolves around the player's decision making using the gameplay. Yeah, it's some deep stuff for a Disney game.
Warren Spector is best known for one of the most pivotal video games in the history of gaming, so when he brings that expertise to a Disney title a lot of people are going to be interested in how the whole thing gets pulled off. The unique thing about the situation is that Disney actually had a pitch for Warren, and the Spielberg of videogames jumped at the opportunity.
I have to be completely honest about Epic Mickey, though. It looks to me that the developer diaries are actually more interesting than the game itself. I could be wrong, but the game seems a little ho-hum. Maybe the story will captivate where the visual aesthetics seem to be lacking. Anyway, you can check out the new dev diary below, and look for Epic Mickey to hit store shelves for the Nintendo Wii beginning November 30th. For more info feel free to head on over to the Official Website.
Staff Writer at CinemaBlend.
Your Daily Blend of Entertainment News
Thank you for signing up to CinemaBlend. You will receive a verification email shortly.
There was a problem. Please refresh the page and try again.