Ether Saga Odyssey Coming To North America On April 27th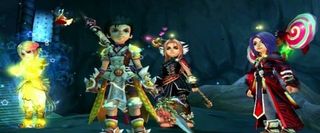 Perfect World Entertainment announced today that a new chapter in their free-to-play MMO category will expand with a new game called Ether Saga Odyssey. The game seems to take a page out of the PS2-style RPG paradigm with unique character designs and both vibrant and exotic colors.
While some people might think this is just another MMO to crowd up the over-populated South Korean MMORPG genre, Ether Saga actually has some unique features that Aaron Potter, the Product Manager for the game, explains with the following comments…
Basically, it's like a MMO version of Pokemon. I certainly have no gripes with that. Of course, the game also still contains standard character progression and leveling, equipment crafting and everything else that comes along with an MMORPG.
The game is scheduled to go live in North America on April 27th. You can scope out a complete list of the game's features below or visit the Official Website to sign-up and prep for the client download.
Features:
• Pet Training System - With hundreds of pets to capture and tame, summon and train them to battle alongside with you while create stronger breeds with new abilities
• Monster Card System - Collect monster cards, transform into monsters as well as gain access to new attributes and skills
• Mini Games - Play a variety of fun casual games simultaneously as you complete quests
• 4 Distinct Races with 8 Advanced Classes - Each race has a unique look, mission and play style
• Character Customization - Customize the facial features and fashion of your character, choose from 9 different crafting and gathering skills as well as a variety of professions with skills ranging from forging armor and weapons, concocting potions, or creating items for your pets
• Ease of Access and Play/Improved UI - Additional visual aids and integrated Navigation System with auto-route feature for quick and easy routing to various locations and quest objectives
• Upgraded Game Engine - See polished art style as well as catchy, vibrant, and high quality graphics in concept art, screenshots, videos, and more
Your Daily Blend of Entertainment News
Staff Writer at CinemaBlend.