FTL: Faster Than Light Is A Kickstarter Success, Makes Steam's Top 10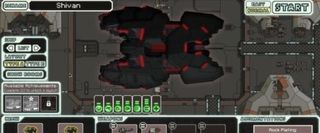 Gamers have funded the first successfully published Kickstarter game, Faster Than Light. The project launched on Kickstarter back in February earlier this year with a modest goal of $10,000. The project kicked up more than $200,000 in pledges and has recently launched on Steam and Good Old Games, not only that but the game made it into Steam's Top 10 best selling games of the week.
There's no doubt that Kickstarter is here to stay if more games follow in the footsteps of Subset Games' FTL: Faster Than Light. The game itself is a space-strategy simulator where gamers build their ship, manage compartments and crew and battle for space supremacy in a randomized environment. Gamers have already cited FTL as being challenging, difficult, hard and a cargo-load of fun given its throwback to classic space-strategy sims during the Golden Era of gaming.
While obvious improvements can still be made to the system, the playability factors have really won gamers over, and as indicated in Blues News listing of the Steam's weekly top 10 games, FTL: Faster Than Light, a crowd-funded indie game, is sitting pretty in fifth place.
Basically, this means that gamers have come to the point of both supporting the hobby they love by funding development themselves, and paying for the hobby they love by supporting the product after it releases. A real Kickstarter success, indeed.
While this is a small victory for the crowd-source community and core gamers in general, we won't be able to truly tell just how much crowd-sourcing can influence the industry until the bigger projects such as Wasteland 2, Shadowrun Returns and Double Fine's Adventure releases. At that point, the sales will be a telling story as to whether gamers can independently support the developers they love and keep the sales margins high all while bypassing publishers.
You can pick up FTL: Faster Than Light right now from Steam or Good Old Games, or you can visit the Official Website to learn more about the game.
Your Daily Blend of Entertainment News
Staff Writer at CinemaBlend.