Fanatec Continues To Support PS2 With Speedster Controller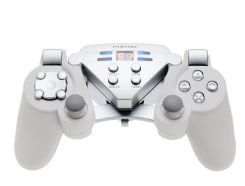 The high-tech German gaming-gear developer, Fanatec, has recently announced the availability of their new Speedster Controller for the PS2. Having already been released to the public, the Speedster Controller supposedly combines both steering-wheel capabilities and ergonomic controller attributes for both racing and non-driving games.
Fanatec has specially designed (and trademarked) the Twist'n'Turn axis for the Speedster Controller. This is in addition to the ergonomically enhanced analogue triggers and precision gaming qualities. Moreover, "...the Speedster Controller features the renowned tuning features of the Speedster wheel series including sensitivity, elimination of the dead-zone, and adjustment of the vibration level. Latency free 2,4 GHz RF technology provides for wireless gaming without limits. Included within the package is the Play?n?Charge-Set featuring three rechargeable and powerful 2000mAh batteries and a 5 m USB charging cable for continuous game play."
You know it's funny that just after the release of the Playstation 3 a whole lot of kick-butt gear is emerging for the PS2. Now why on earth would I want a PS3? Just kidding. Anyway, here's a feature list of Fanatec's Speedster Controller.
• Twist?n?Turn axis for more realistic and precise control of all racing games (incl. motorbike, jet ski, ATV, snowboard)
• Switch instantly between driving and running (for games like GTA)
• Additional real analogue Triggers for sensible acceleration and braking.
• D-pad with 8 independent buttons for accurate diagonal movement in sport and fighting games
• TUNING function to adjust the sensitivity, eliminate the dead-zone or to adjust the vibration level
• Triggers can be mapped with timed macros
• 4 blue LEDs indicate the steering and the gas/brake movements
• 2,4 GHz RF technology with no latency
• Including Play?n?Charge kit with 3 rechargeable 2000 mAh batteries and a 5 m USB charging cable for continuous game play
For more information, media, purchasing info and details regarding Fanatec's products, you can visit the Fanatec Main Website.
Staff Writer at CinemaBlend.
Your Daily Blend of Entertainment News
Thank you for signing up to CinemaBlend. You will receive a verification email shortly.
There was a problem. Please refresh the page and try again.