Father Kills Son Over MMO Gaming Addiction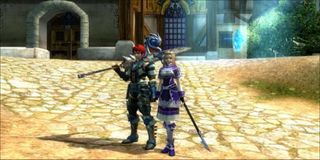 Multiple reports have surfaced in regards to a disturbing scenario in which a man has allegedly killed his son over the young man's addiction to massive multiplayer online video games.
According to MMO Attack, French news outlet Midi Libre has reported that a 43-year-old Frenchman has allegedly killed his 23-year-old son over the purported incident involving the son's addiction to online gaming.
The event occurred in the small village of Luc-sur-Orbieu near Lézignan-Corbières in Aude, France. Residents claim that the town is usually known for being quiet and quaint.
According MMO Play there was a family gathering happening at their holiday home where a heated argument commenced between the father and the son over the son's amount of time being spent playing games.
The reports indicate that the father grabbed his son by the throat after the argument escalated to a physical manner. From this point, the reports are unclear as to whether or not the father strangled his son to death or if some other incident occurred within this time that caused the young man's death.
After getting physically involved with his son, the father quickly called police to the scene. When the police investigators arrived at the scene, the young man was pronounced dead at their arrival.
The autopsy report is still inconclusive as of the time of this writing, as noted in a brief piece by French news outlet, The Local.
All news sources are reporting that the young man suffered from a chronic psychiatric problem, and it's being reported that there was a form of medication involved to help with his ailment.
Additionally, the reports also indicate that the young man's psychological state may have had some bearing on his addiction to online multiplayer games. None of the reports indicate what games the young man involved himself with.
None of the news reports indicate what will happen to the father.
According to Midi Libre, the town of Luc-sur-Orbieu is very upset over the incident. It was stated that the family is usually very reserved and discreet.
This is the second recent incident involving a father killing his child in relation to video game material, the other incident involved a man suffocating his infant son in order to play his Xbox One.
Previous incidents involving deaths related to gaming usually have to deal with addiction leading to death by exhaustion, however these latest two incidents involve intentional physical altercations.
Your Daily Blend of Entertainment News
Staff Writer at CinemaBlend.
Your Daily Blend of Entertainment News
Thank you for signing up to CinemaBlend. You will receive a verification email shortly.
There was a problem. Please refresh the page and try again.