Firefly Cast Will Reunite In Firefly Online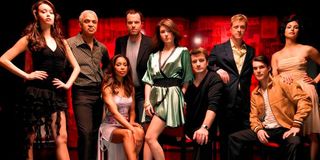 Firefly's cast will be reuniting in Firefly Online. The cast from the TV series will be lending their voices to the upcoming massively multiplayer online game.
According to the announcement at San Diego Comic-Con, this includes all of the stars: Nathan Fillion, Gina Torres, and so on. They'll be playing their characters from the original Firefly show. Some of these actors, including Alan Tudyk, will also voice additional characters.
They're even bringing back Michael Fairman. Fairman played Niska, the sadistic crime boss from a couple episodes. He's far from the most prominent character so that goes to show you how thorough Firefly Online's developers are being. I look forward to being creeped by him.
Firefly Online is a collaboration between Sparkplug, Quantum Mechanix and Fox Digital Entertainment. The PC, Mac, iOS and Android MMO lets players get their own ship and hire a crew. Then they'll undertake missions throughout the 'Verse for upgrade money.
"For us, the most exciting thing is player-created 'jobs' (the Firefly Online name for quests)," Quantum Mechanix's Andy Gore said in December. "There will be a job-creation system where players will be able to craft adventures for other players to partake in. We're looking forward to seeing what people do with that system."
"And there will be *a lot* to do beyond quests. You can focus on pimping your ride, getting a new ride, hiring a crew, keeping them happy, trading, crafting, collecting swag, or just flying around the multitude of terraformed worlds of the Verse in the freeform flight simulator."
The developers released a new trailer today to show off some of the gameplay footage. In the video, we see the player piloting a ship and exploring its interior. We also see a snippet from a mission, with players shooting up a tavern.
Like the crew of the Serenity, Firefly Online players will be the fiercely independent Browncoats. This presents the possibility that players could team up with Mal and his companions. Or perhaps we'll just run into them at a watering hole. Either works.
I've always been a little pessimistic about Firefly Online. However, the return of the original cast shows that the developers are serious about making their game into an authentic Firefly experience. Voice actors won't make the game enjoyable on their own but they do suggest that this won't just be some cheap cash-in on a beloved franchise.
You can register for news or find more information on Firefly Online at KeepFlying.com. However, the servers are slammed right now thanks to today's announcement so you'll probably get an error message if you try now.
Your Daily Blend of Entertainment News
Staff Writer at CinemaBlend.