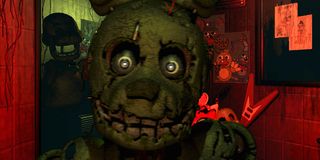 Five Nights at Freddy's developer Scott Cawthon gave fans a heartache on Sunday by announcing that his latest PC horror game, Five Nights at Freddy's 3, is cancelled. Fortunately, this wasn't true.
"I was hacked and the game is cancelled," Cawthon announced on the Steam forums for Freddy's 3. He then provided a link to the site where the supposed hacker was sharing it for free.
The download isn't actually Five Nights at Freddy's 3, though. Instead, it's a platformer starring a stick figured with Freddy's head. Players have to avoid obstacles like spikes and lava through well-timed jumps. If you're a half-second too fast or slow, you'll die a horrible death. The game automatically restarts from the beginning once you die and your character is always running forward so there's no rest.
If you're not convinced that this is an elaborate troll by Cawthon, the soundtrack - that infamous "trololo" song - should make it clear.
"In case you all haven't figured it out yet, I have NOT been hacked so stop worrying!" Cawthon said in an update on his Steam announcement. "All I've been hearing about all day is how I've been hacked! Everything is fine and FNaF 3 is still moving full speed ahead. Now everyone take a chill pill and enjoy the nice game I made for you! ;)"
Judging by the Steam comments, not every Freddy's fan appreciated the prank. If I were in their shoes, I'd at least be a bit annoyed by the head fake. Either way, I'm sure everyone's relieved that Freddy and the rest of the creepy animatronic robots will live on.
As Kotaku notes, this fake Five Nights at Freddy's 3 is just a modified version of Cawthon's previous game There Is No Pause Button!. You can download it for free at Google Play or the App Store if you're looking for a mobile game that's crueler than Flappy Bird.
Five Nights at Freddy's 3 was announced late last month and quickly shot to the top of Steam Greenlight's rankings. The game doesn't take place in the robot-infested pizza parlor of the past two installments. Instead, someone had the bright idea to make an attraction based on that parlor. The end result is the same, though; murderous robots stalking a dark building while players cower in the corner.
Cawthon hasn't announced a release date for Freddy's 3 yet. However, he held a small beta test for the game this weekend. He said that the test "went well" but that the game is "still very bare bones."
Your Daily Blend of Entertainment News
Staff Writer at CinemaBlend.