Fluxx Brings Ever-Changing Card Game To Mobile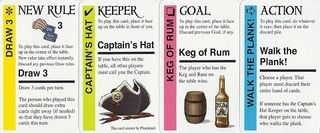 The stream of formerly tabletop-only games coming to mobile continues with the announcement that Fluxx, the card game of continually shifting rules, will be headed to mobile at some undetermined point in the future.
Fluxx is actually a pretty nifty, extremely easy to learn card game in which the rules are constantly in, ahem, flux. The cards you play determine the games rules and winning conditions. The trick is to make it so that your played cards line up with the winning conditions before someone changes them. It sounds a little complex now that I see it in black and white but, once you start playing, you'll understand the game perfectly in about five seconds flat.
The game's publisher, Looney Labs, has partnered with mobile game publisher Playdek in order to bring Fluxx to the mobile market.
"Fluxx is an amazingly accessible and fun game with a light-hearted and ever-changing strategic challenge," said Playdek CEO Joel Goodman. "Looney Labs' new version of Fluxx hits it out of the park, and Playdek is happy to be bringing Fluxx to mobile devices."
What mobile devices, exactly? No word as of yet. And even if there was, there's a pretty good chance that Playdek would change their minds a few times between now and the release date as a not-so-sublte not to the game's constantly changing play conditions. As for the release date, that's also a mystery. So far all we know is that Fluxx will be made available for mobile sometime before Christmas. So, yeah, go ahead and add that to your digital wishlist.
Staff Writer for CinemaBlend.
Your Daily Blend of Entertainment News
Thank you for signing up to CinemaBlend. You will receive a verification email shortly.
There was a problem. Please refresh the page and try again.