Free Demo Of Drakensang: The Dark Eye Is Now Available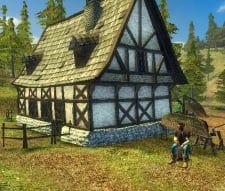 Just about every RPG is highly anticipated by some group of fanatical RPG lovers. Even if it's a little-known, non-publicized, un-hyped RPG like Drakensang: The Dark Eye, fans will still emerge to claim it as the greatest RPG of all time. Well, you can see for yourself how great this game is with a free demo.
The Dark Eye: Drakensang was originally released earlier this year in Germany, Austria and Switzerland with startling success. The game was so popular that dtp entertainment decided to branch the game overseas to North American territory. To help launch the game in the northern markets, dtp decided to release a free demo of Drakensang: The Dark Eye, which is currently available for download.
The demo offers players three different classes to choose from: Dwarf Mercenary, Andergastian Battle Mage or Silvan Elf Ranger. The full version of the game offers up 25 distinct characters to play, turn-based combat, and absolutly gorgeous graphics, set against stunning scenic backdrops. Those of you who like to put in some play-time with the demo, feel free to download it by visiting the Official Drakensang: The Dark Eye Website. And remember to stay tuned in with Blend Games for more news and updates on the latest gaming happenings.
Your Daily Blend of Entertainment News
Staff Writer at CinemaBlend.