Free Starcraft Clone Enters Beta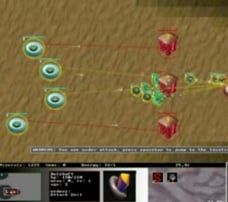 Who doesn't enjoy free gaming? Not anyone you or I know. And that's why here at Blend Games we do our duty in providing gamers with as many outlets and resources for budget-priced gaming and free-to-play games. In this case, a Starcraft-esque strategy game has entered its beta stage of development, and it's free-to-play.
The name of the game is ARTSG. The story is about a team of cyborgs sent to mine and gather resources from a newly discovered planet, 'StarMinera'. Problems arise when a competing company is set out to do the same thing. It's up to players to retrieve and syphon the minerals from the planet while building up their own resources and fending off the competition. The game features RTS tactical elements in a 2-D environment, with 10 levels of a single-player campaign, or a free-mode against the computer AI. As mentioned, the game is free-to-play. So it's not like you're committed to anything.
You can check out a gameplay video of ARTSG below, as well as a fact sheet, or you can visit the Official Website for more information about the game. Be sure to stay tuned in with Blend Games for more updates and news regarding all things gaming.
ARTSG Features:
* Challenging single player campaign with 9+ levels
* Over 15 different AI types, to provide a challenge against even the seasoned RTS player
* Each unit gains experience and can increase level, which improves stats
* Voice (Unit voices, alerts, etc.) and background music
* Minimap
* Full-screen tactical map
* Unit groups (including UI buttons for group and auto-group assignment system)
* Load/Save functionality
* Record/Replay functionality
* Built in level editor
* "Defend Challenge" special game mode
* Event alerts (building complete, etc.)
* Player statistics
* Randomly generated maps
* Ground decals (blood, laser blast marks, etc.)
* 2-player multiplayer support over TCP/IP (* currently being refactored)
Staff Writer at CinemaBlend.
Your Daily Blend of Entertainment News
Thank you for signing up to CinemaBlend. You will receive a verification email shortly.
There was a problem. Please refresh the page and try again.