GTA 5 Accounts Are Being Stolen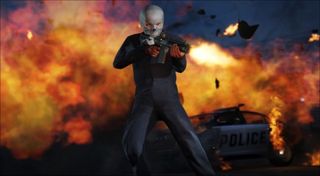 Over the past week customers who purchased GTA V on PC have been complaining about their accounts being compromised and stolen. How the accounts were compromised hasn't been disclosed yet, but after a lot of pressure and some fairly damning evidence of their customer support not being up to par, the company has finally started rolling out solutions to the problem.
Blues news has a response from Rockstar regarding their fix for the situation involving hacked or compromised accounts, with the Rockstar support stating...
The statements also make it known that for gamers who contact Rockstar customer support they will attempt to reinstate full user access to the account within 24 hours.
This is a very nice development in the situation after the situation kind of unraveled in an almost disturbing way. Previously, GamersNexus did a very thorough check into the situation to see whether or not the hacking claims were true and what sort of support Rockstar could offer to help gamers retrieve their accounts. It turns out, Rockstar's customer support via phone wasn't quite as helpful as some gamers may have hoped. A video is making its way around that GamersNexus compiled showing had evasive and unhelpful the Rockstar customer support can be. Check it out below.
Following the publication of the GamersNexus article, lots of other gamers came forward about their accounts being compromised. This included posting on Reddit, Twitter and the Rockstar support forums.
The only thing that Rockstar had mentioned previous to their most recent statements was that the compromise did not happen on their end, telling Kotaku...
For the people who called the Rockstar customer support line, their issues – using the ticket numbers as reference – were passed on to another department to handle. Accordingly – as mentioned in the video up above – Rockstar would e-mail the customers about their compromised GTA V accounts.
If you didn't receive an e-mail or found yourself unable to get anywhere with the phone support, some users have claimed that they have had better success getting through to Rockstar using their official Twitter support.
Unfortunately, if you can't log into the Rockstar Social Club you can't gain access to GTA V on PC; so people who paid $60 for the game are unable to access a game they paid for due to an online DRM blockade. The Rockstar Social Club has come under fire before back with GTA IV, but in GTA IV it wasn't entirely essential to play the game and could be bypassed after initially registering the game. At least Rockstar seems to be taking steps to address some of the common problems associated with the Social Club and GTA V.
Your Daily Blend of Entertainment News
Staff Writer at CinemaBlend.
Your Daily Blend of Entertainment News
Thank you for signing up to CinemaBlend. You will receive a verification email shortly.
There was a problem. Please refresh the page and try again.