In-Game Ads To Reach $1 Billion In Spending By 2014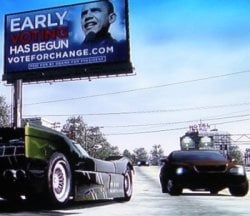 How much will be spent on in-game advertisement in 2014? $1 billion dollars if the headline has anything to say about it. Well, according to recent findings by Screen Digest, a research and marketing analytics firm, mainstream advertisers will see the greater potential of in-game ads by the time and will be willing to invest a pretty penny in the game's advertising market.
Adam Smith, Futures Director at GroupM, commented in the press release regarding the research data, saying, "Games are proven recession-beaters with an ad-funded online model that actually works. There are many ways in which advertising can help evolve business models for video games and we have only just begun to explore that potential. Given gaming is now a mainstream leisure interest, in-game deserves the same consideration as mobile and social media."
The "recession-beater" statement isn't entirely true, just to clarify things. According to EL33T Online, during April gaming took a 17% drop in sales and is finally starting to show signs of economic-affectation. The marketing report by Screen Digest suggesting that in-game ad spending will exponentially increase by 2014 certainly seems optimistic despite many online ad agencies scaling back during these times. This is not to discount that the research may include information regarding a turn-around in the economy and the re-emerging necessity of reaching consumers with superfluous advertising.
"Dynamic in-game advertising offers brands the same accountability as other digital platforms but in a more controlled environment than social display media and through a more standardized value chain than mobile advertising." Says Screen Digest Senior Analyst for Advertising, Vincent Letang, "Like online video pre-rolls, in-game advertising fills a gap in online branding, bringing familiar formats such as virtual billboards and TV ads into the gaming experience."
Well, the gamer demograph has been the toughest to crack when it comes to effective advertising; marketers can't seem to reach this group through TV, radio or the net. So, in a way, in-game ad spending being up to $1 billion by 2014 doesn't look entirely implausible. The only downside, as mentioned above, is the gaming industry actually being affected by the economic recession and the long-term effects the financial woes may have on gaming publishers, developers and all things in between.
Nevertheless, you can learn more about Screen Digest and their recent report by visiting their Official Website. For more gaming news, info and updates, be sure to stay tuned in with Blend Games.
Staff Writer at CinemaBlend.
Your Daily Blend of Entertainment News
Thank you for signing up to CinemaBlend. You will receive a verification email shortly.
There was a problem. Please refresh the page and try again.