This Game Finds Romance Blossoming Between A Woman And Her Gorilla Bodyguard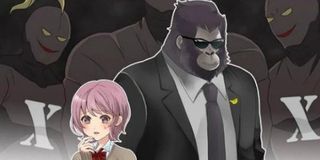 There have been some extremely out there dating sims in the past, but none so wacky as one following the love that manifests between a gorilla and a human woman.
Gorilla Boyfriend (via Siliconera) is a special free dating sim created expressly for iOS and Android users that has a very unique background. It was spawned from a male gorilla in a Japanese zoo that has all the women flocking to it. It's said to be a very muscular and attractive gorilla named Shabani who has "mastered the art of the fierce stare." It sounds like he's got the Blue Steel down pat, possibly from watching Zoolander too many times.
Because Shabani is so popular with the ladies, it goes to reason that someone would, of course, create a dating sim capitalizing the popularity off of the gorilla that's got everyone going weak at the knees.
The game requires players to keep the romance alive between the human woman and gorilla for two weeks in-game so that the gorilla eventually ends up turning into a human himself. Now that's a happy ending for you. You'll have to continually tap on the gorilla to make him beat his chest and scare less suitable, less manly men away from his human lover, and that's just part of it.
It seems like a silly yet totally adorable game that's plausible much in the same way that Hatoful Boyfriend works with pigeons. You've probably already played it, and we're not telling you anything new (because you read about the PlayStation 4 release here the other day!) but the "hardcore pigeon dating sim" Hatoful Boyfriend is just as zany and entertaining. Originally released in 2011, it became a cult following among visual novel enthusiasts (such as yours truly), and it received a remake for a brand new audience -- now no more scrambling for the limited Japanese release!
You play the only human in St. PigeoNation's school for birds, where you'll manage your own school schedule while pursuing several gorgeous pigeons that all want to be your one and only. Like any self-respecting visual novel/dating sim, there are multiple branching paths to take so you can make sure you end up with the pigeon that's right for you.
But that's only a drop in the bucket when you consider all the other quirky, totally bizarre dating sims out there. Which ones are your favorites? Do you think romancing a gorilla is just a little too weird to do in a game? If so, we'll have to talk about all the weird stuff that's still out there. Perhaps in a future feature. For now, give Gorilla Boyfriend a try and see how well you channel your inner Cupid!
Your Daily Blend of Entertainment News