Will GamerFood Help You Play Better?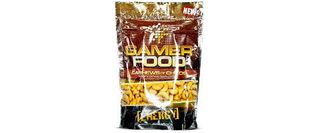 Can a snack help you game better? That's what GamerFood claims. The company is now offering three snack foods that will supposedly make you more energetic and alert.
"GamerFood is the snack for hardcore gamers. Not only does it nourish, it also boosts focus, alertness, and reaction time, giving players a competitive advantage," said Chris Davis, GamerFood CEO. "Convenience stores are stocked with energy drinks and protein bars for athletes but lack a space for gamers, GamerFood fills that void. Gaming is mentally demanding, with limited break time and late nights that run into mornings. We developed a series of snacks with industry experts that met our needs: delicious energy packed snacks, infused with energizing ingredients that deliver quick sustainable nutrition and energy."
The first three GamerFood Products are "Cashews of Chaos" (honey roasted cashews), "Nuts of Destruction" (ancho chili lime-flavored peanuts) and "Seeds of Victory" (sunflower seeds). All three contain caffeine, taurine, ginseng and lysine. These ingredients are said to enhance "short-tem memory, concentration, focus and alertness."
The snacks are available exclusively through GamerFood's website.
Image 1 of 3
Your Daily Blend of Entertainment News
Staff Writer at CinemaBlend.
Your Daily Blend of Entertainment News
Thank you for signing up to CinemaBlend. You will receive a verification email shortly.
There was a problem. Please refresh the page and try again.