Gas Guzzlers Extreme: Full Metal Frenzy Launches With Brand New Modes, Content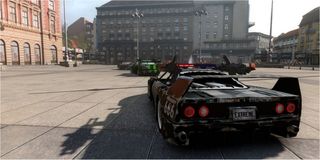 New downloadable content has become available for Gas Guzzlers Extreme: Full Metal Frenzy. This is probably one of the most underrated games out there, given that it has clean graphics, great mechanics and more destruction than a bunch of five-year old ADHD kids on a sugar rush during the exhibition of hand-crafted vases from the Qin dynasty in a glass museum.
The new content for Gas Guzzlers Extreme features three new game modes, two new playable maps, a new police skin, a new female announcer for those of you who want a bit more of a feminine touch to your metal-carnage play dates, and two brand new power-ups to play around with.
I think the things that deserve the most time to explain are probably the power-ups and the game modes... or not. Anyway, the police skin is the one that excites me the most because it feels like a nice throwback to the classic PlayStation Twisted Metal games, where my favorite character was the Outlaw police car. Man, I used to wreck my friends all day long in that one.
The great part about it in Gas Guzzlers is that you can apply the skin to any car, so you don't have to worry about wanting to play your favorite car as a police car but you can't because it's only limited to certain vehicles. There's no motor vehicle discrimination going on here.
As for the game modes, there's Dominator, Destruction Derby and Domination Derby. The derby modes are more-so reliant on crash-'em-up tactics, as players use ramming and smashing tactics to blast their opponents to pieces instead of weapons.
My only concern about the Destruction Derby modes is that the game's damage models were somehwat limited when it came to procedural, soft-body deformation. So it wasn't anywhere near like Next Car Game, GTA IV when you unlock the damage settings on PC, or BeamNG's damage-centered racing title. Still, the new mode is very much appreciated.
The game's strong suit is definitely in the high-octane racing and weapon-based combat. It's such a satisfying game blasting down opponents with various high-level equipment and watching the pieces fly into a thousand different directions. The sound, the visuals, the momentum... it all works.
The two new maps are based around unique locations, such as Zagreb arena, which is mirrored after the Croation developer's home capital in Croatia, as well as Cowboy arena, which sets players in the dusky plains of an old Western town.
You can grab the new Full Metal Frenzy DLC for Gas Guzzlers Extreme by paying a visit to the Steam store page. If you enjoy combat racing and you're looking for a fun single or multiplayer title to fill your empty belly for the hunger it desires for something like Twisted Metal, Gas Guzzlers is definitely a nice alternative.
Your Daily Blend of Entertainment News
Staff Writer at CinemaBlend.