Gears Of War Gold Lancer Code Giveaway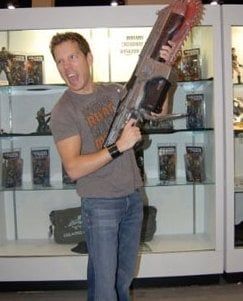 More giveaway news. I'm sure freebie fans are loving this. This time around it's some Gears of War gear, which, as the headline states, is a Gold Lancer Code and a Cog Tag. How to enter and how to win is pretty easy, but you don't have much time.
Each day TheGameReviews is giving away some Gears of War 2 swag for the entire week. You can check out the links to see how to enter and how to win. There's supposed to be a special prize giveaway come Friday, so we'll keep you posted on what it is and how to win it.
Gamers will have up until March 12th to enter, after that the winners will be chosen and the swag will go away to whoever wanted it more. Yeah, and you'll probably end up kicking your own rear-end for not entering, especially with the whole Golden Lancer being up for grabs. You can check it out on TheGameReviews.com.
For more gaming news, info, contests, alerts, rumors, updates and news, be sure to stay tuned in with Blend Games.
Your Daily Blend of Entertainment News
Staff Writer at CinemaBlend.