Genesis AD: F2P Shooter Officially Launches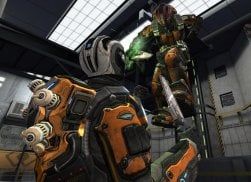 The futuristic shooter from ijji Games has officially launched today, marking Genesis A.D. as the second high-end free-to-play shooter from the ijji Games portal, next to Alliance of Valiant Arms. The online multiplayer, first-person shooter sets a high standard of gameplay, featuring three playable character classes which can also be customized from head-to-toe with high-tech weaponry and special abilities.
As stated in the press release…
In addition to the game launching, special prizes are up for grabs, as players who post their in-game achievements to the Genesis A.D. Facebook wall will be entered to win a number of prizes, including but not limited to a 24-inch ViewSonic full HD monitor, a Razor Lycosa Gaming Keyboard or cash shop G Coin.
You can learn more about Genesis A.D. or start downloading the client and hop into the action by visiting the Official Website.
Genesis A.D. Features
• Amped-up abilities – Genesis A.D takes combat to the extreme by giving players the ability to jump off walls, leap out of the line of fire, boost themselves across huge distances instantly or cloak temporarily from enemy sight.
• Pin enemies down, literally! – Genesis A.D's advanced weapons include the Spouter, which temporarily slows down and disorients opponents with a concussive blast, and the Quantum and NCS99, which blast energized spikes and pins downed opponents to the wall.
• Three distinct character classes – Players of all types will find a character class to fit their skill set in Genesis A.D. From the powerful Assault Class to the nimble and covert Sniper Class to the helpful Supplier Class, diversity is the key to a strong team as groups of gamers battle to be the best.
Staff Writer at CinemaBlend.
Your Daily Blend of Entertainment News
Thank you for signing up to CinemaBlend. You will receive a verification email shortly.
There was a problem. Please refresh the page and try again.