Get 50% Bonus On APB: Reloaded Cash Shop Credits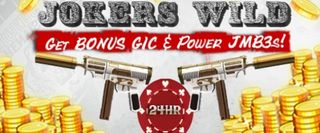 Seems like APB: Reloaded has been in the news quite a bit this week. However, this time it's for something exceptionally useful for anyone who plans to buy stuff from the cash shop, as GamersFirst has announced that cash shop credit buyers will get 50 percent back on their purchases for APB: Reloaded.
So check it: If you buy 1600 G1 credits or more for APB: Reloaded you'll get 50% bonus credits for your purchase, enabling you to buy even more stuff. That's pretty snazzy.
In addition to the 50 percent bonus G1 credits, the promotion also sees the Joker Mystery Boxes returning. These boxes enable you to spend a little G1 credits and gain access to unlocking some high-quality premium cash shop items. There are four different Joker Mystery Boxes and a special mystery box that contains guaranteed premium ATAC guns for every 1000 G1 credits spent.
As you can imagine, there's a lot of spend, spend, spend attached to the promotion while promising a lot of bonuses and items. So is the nature of free-to-play.
On the upside, though, there are ways to gain access to free G1 credits simply by participating in advertising promotions, so it's not all about dropping real dollar bills.
There is a downside though: You only have today to get in on the deal. Bummer, right? Well, that's way of things. You can learn more about the promotion by paying a visit to the Official Website.
Staff Writer at CinemaBlend.
Your Daily Blend of Entertainment News
Thank you for signing up to CinemaBlend. You will receive a verification email shortly.
There was a problem. Please refresh the page and try again.