Giveaway: Linksys E4200v2 Dual-Band N900 Router (Closed)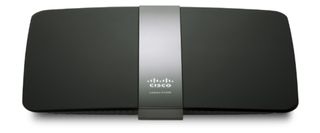 We have a handy new device to giveaway to readers today and it's the brand new Linksys E4200v2 Dual-Band N900 router, the latest maximum performance home or office wireless networking device.
Cisco's latest wireless router is perfect for connecting multiple devices for entertainment or business purposes. For gamers this device would be useful if you have multiple consoles, portable wireless devices or mobile networking platforms that you need connected to the net, whether it's for LAN parties or just to have more than one active platform hooked up online.
What's more is that the router can be used for additional devices as well, such as home computers and even Blu-Ray players, enabling users to have all their home entertainment devices streaming, playing and running online services simultaneously. You just have to make sure you're not speed-capped by your service provider to make the most of the new E4200 N900 router. And if you aren't speed-capped, then it means you don't have to worry about lag spurts or gameplay interruptions during online matches of Modern Warfare 3 while your pesky sibling streams the latest Justin Bieber music video and one of your parents grabs a classic Traci Lords film from PC for "research" purposes.
Well, enough information gushing...the main reason you're here is because you want to earn yourself a free Linksys E4200v2 Dual-Band N900 router and we're here to help give one away, especially considering that these bad boys are in limited supply and can cost up to $420 USD. It's quite easy to enter the giveaway just follow the simple steps below.
1.) Head to our Facebook page at Facebook.com/GamingBlend
2.) Drop a comment on the Giveaway post for the Linksys N900 router and why you want one.
3.) Wait in unbridled anticipation as we filter through comments to pick a winner.
This giveaway is sponsored by Cisco. You can learn more about the N900 by visiting the Official Website. Only one winner will be picked for the contest. The winner cannot have won a Linksys in any other contest within the last six months. Only participants in the U.S. are eligible to win. The winner will be contacted via Facebook so have your shipping address ready.
Image 1 of 2
Your Daily Blend of Entertainment News
Staff Writer at CinemaBlend.