Global Agenda Closed-Beta Sign-Up Starting Now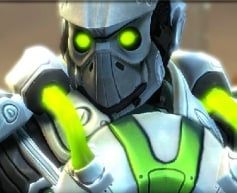 The coolest new MMO coming out for PC has got to be Hi-Rez Studios' Global Agenda. The game is a mix of multiple genres featuring espionage, close and long-range combat and all kinds of nifty character progression abilities. And given that the alpha-test has gone over quite well, Hi-Rez is looking for some willing gamers to participate in the upcoming closed-beta test of Global Agenda.
"Our alpha testing has gone very well - in terms of game stability and, most importantly, very positive feedback from an active alpha community", said Todd Harris, Executive Producer of Hi-Rez Studios. "Based on these results we are excited about aggressively growing the Global Agenda player community in Beta"
Believe it or not, this Unreal-Engine 3 action MMO already has a fact-sheet of gameplay features for the closed-beta. Seems a little insane, right? I mean the game is far from finished yet gamers can already expect kick-butt features. That just goes to show you how awesome this game is going to be.
The final game will feature co-op play, user created agencies and conflict, solo and team missions and a ton of other stuff. Global Agenda's closed-beta is expected to begin in the second quarter of this year, and the final version is expected to launch sometime in late 2009.
You can check out the features list below, or visit the Official Global Agenda Website to sign-up for the beta. And remember to stay tuned in with Blend Games for further updates and news regarding the latest gaming titles.
Global Agenda Closed Beta Features:
Develop your agent – Create, extensively customize, and improve your agent character over the course of your career, complimenting your FPS skills with RPG-style progression and high-tech gear.
Join with other agents – Engage in cooperative PvE missions to develop and refine your individual and team tactics
Advance your agency – Join a player-created agency, compete in technology races for advanced equipment, and capture critical locations to increase your influence in the world.
Compete in fast-paced PvP combat – Work with your allies to raid or capture enemy controlled facilities during objective-based missions. Equip yourself from a powerful array of weapons, armor, and strategic devices like triggered explosives, deployable turrets, stealth suits, holographic decoys, and remote control robots.
Experience a dynamic, player-driven world – Agency leaders navigate through a global conflict of other player-run groups, striving to reach their goals first. Territory, resources, technology, and influence are all valuable commodities, with agencies engaging in politics, intrigue, and outright deception to control them.
Your Daily Blend of Entertainment News
Staff Writer at CinemaBlend.