God Of War: Ghost Of Sparta Entertainment Pack, Box Art Revealed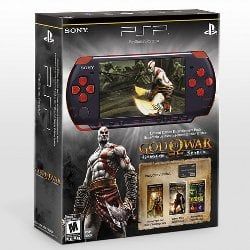 Like predecessor God of War: Chains of Olympus, GoW: Ghost of Sparta will be released as part of a PSP bundle. It doesn't come with Superbad like the older bundle, but it does have another movie starring Christopher "McLovin" Mintz-Plasse.
The Ghost of Sparta Entertainment Pack is priced at $199.99. It comes with the following stuff:
Black and Red Two-Toned PSP-3000
God of War: Ghost of Sparta UMD Game– After God of War concludes, Ghost of Sparta begins with the story of Kratos' ascension to power as the God of War.
God of War: Chains of Olympus PlayStation Network Downloadable Game Voucher – Before the events of God of War, experience Kratos' journey during the 10-years of servitude to the Gods of Olympus in one of the most highly acclaimed action titles of all time!
Kick Ass – UMD Movie
2 GB Memory Stick Pro Duo
Image 1 of 4
Image 2 of 4
Image 3 of 4
Image 4 of 4
Staff Writer at CinemaBlend.
Your Daily Blend of Entertainment News
Thank you for signing up to CinemaBlend. You will receive a verification email shortly.
There was a problem. Please refresh the page and try again.