Golden Axe Now On iPhone and iPod Touch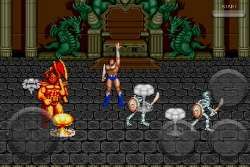 Sega's arcade beat 'em up Golden Axe is now available for download through the iTunes Apps Store. iPhone and iPod Touch owners alike can now experience the thrill of fighting on the back of a giant turtle.
In Golden Axe, players step into the shoes of a barbarian, Amazon, or dwarf on a quest to save a king and princess from the evil Death Adder. Each character has a unique melee weapon and magical attack. The world of Yuria is also populated with various mounts for you to ride into battle.
Golden Axe costs $4.99 to download. In case you're wondering, the iPhone/iPod Touch version comes with the two bonus levels that were also included in the Sega Genesis port. You probably weren't wondering that but there you go anyway.
Staff Writer at CinemaBlend.
Your Daily Blend of Entertainment News
Thank you for signing up to CinemaBlend. You will receive a verification email shortly.
There was a problem. Please refresh the page and try again.