Gordon Freeman Returns In A New Game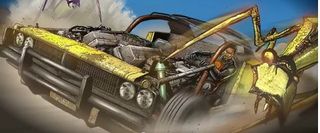 Half-Life protagonist Gordon Freeman is about to make a long-awaited return to gaming. He's a playable character in the PC version of vehicle combat game Renegade Ops.
"Working with Steam and the Half-Life team makes this game extra special." said Sega's director of digital, John Clark (via PC Gamer). "Gordon Freeman is a deeply-established character in the gaming world and we are proud to have him included in Renegade Ops."
In Renegade, Freeman drives the buggy from Half-Life 2. He left his crowbar and gravity gun at home but he's still got a pretty big arsenal to choose from. If the mounted rocket launchers and machine guns on his buggy don't kill you, the pack of antlions he summons will.
Renegade Ops is a top-down, vehicle-based shooter from Just Cause developers Avalanche Studios. The campaign can be played alone, with a friend via split-screen, or with three friends online. You can compete with fellow drivers through online leaderboards.
The Xbox 360 and PS3 received a Freeman-less Renegade earlier in September. The PC edition is due on October 14th.
Staff Writer at CinemaBlend.
Your Daily Blend of Entertainment News
Thank you for signing up to CinemaBlend. You will receive a verification email shortly.
There was a problem. Please refresh the page and try again.